All Ecology Is Local; Ganesh Goes Green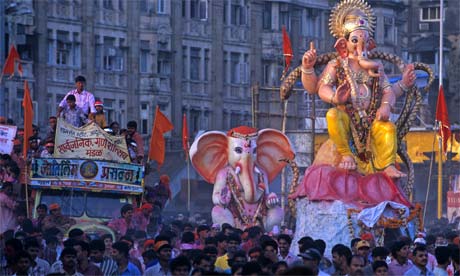 It's a common maxim among sustainability thinkers that one size doesn't fit all: countries, regions and communities need to think realistically about their environmental and social challenges, and develop solutions that respond to their specific circumstances.
We have seen this principle applied across the world in one way or another, but nowhere does the phrase 'local solution' take on greater significance than in India.
The Indian festival of Ganapati (Ganesha Chaturthi) is a case in point. During this 10-day festival, (which this year will start on the 23rd of August), the Lord Ganesh is believed to bestow his presence on earth to all devotees. A central public aspect of the festival involves the submersion of Ganesh idols of different sizes into water (lakes, rivers or the sea, depending on the location of the festival) – the original symbolism being that the idols are returned to the earth from which they came. This represents the full cycle of life in nature.
Over the years, the original clay idols have been gradually replaced by those made of Plaster of Paris, a gypsum-rich product that is much cheaper, lighter and easier to work with than clay, but considerably less environmentally friendly. The festivals have also become more colourful, the idols being decorated with chemical paints (containing oil, lead, mercury, cadmium and several other non-ecofriendly additives) as well as plastic flowers, incense, camphor and so forth.
As a result, once a year, the waterways of India become choked with any number of substances and effluents. Making matters worse, the country's growing affluence has led to more and larger idols being created every year.
But India's environmental conscience is also growing, and recent years have seen increased activity in this area. Several initiatives have sprung up to address the problem, including campaigns to once again use clay (or biodegradable substances such as papier maché); encouragement to immerse the idols in tanks or buckets at home; and recycling of idols from year to year.
Governments are also getting in on the action. Local authorities in some areas have tried to mandate the use of eco-friendly idols, while others have banned the immersion of idols altogether in public waterways. And while there has been some resistance from conservatives and others who see these initiatives as an attempt to make idols more expensive (and take the festival out of the hands of the 'common man'), more and more Indian families are making the choice to go green with Ganesh.
Ganapati is a popular festival, and it is taking time for the green message to spread. But India is capable of moving with tremendous speed when it so desires, and I am optimistic that, within a few years, this most local of eco-movements will result in a green Ganapati for generations to come.